World Class Wear Resistance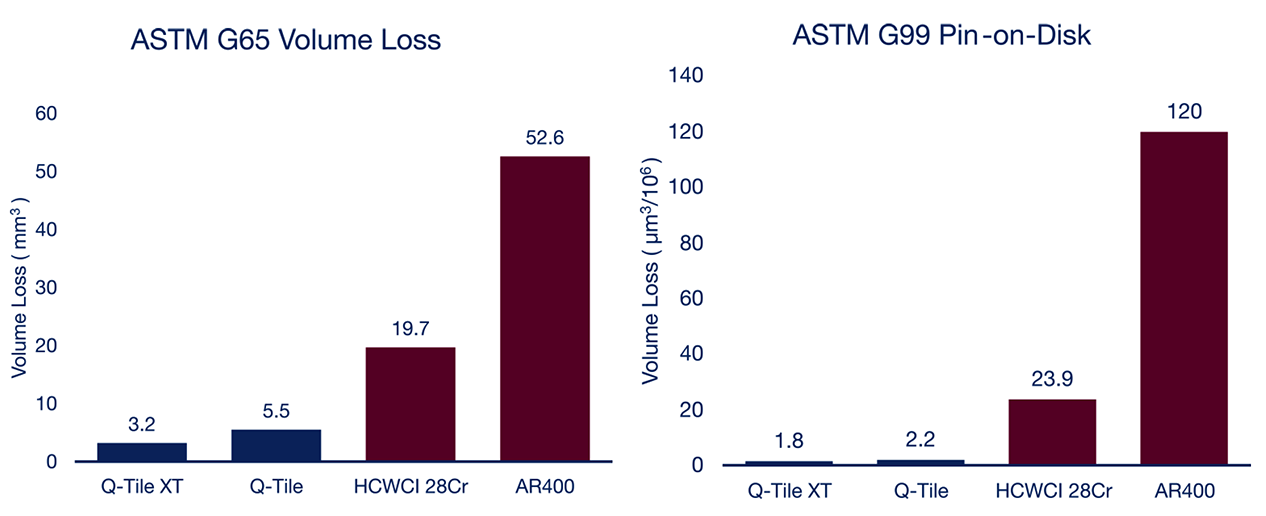 Q-Tile outperforms common industry standard wear resistance steels such as AR400 and High Chrome White Iron in a wide array of ASTM standardized testing.
Proprietary Microstructure

Customizable Geometries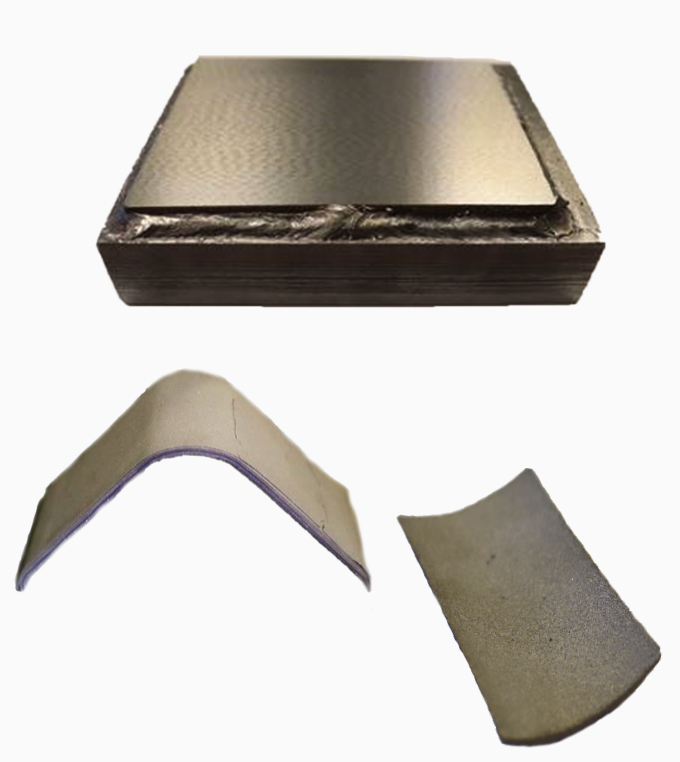 Weldable or Brazeable/Sinterable
Q-Tile can be welded using the MIG technique. Recommend Stainless Steel, Incoloy alloy or preferably Carbon Steel rods. Q-Tiles can be brazed or vacuum sintered to any steel substrate using common B-Nickel aerospace brazes.
Custom Shapes and Dimensions
Currently, representing amongst the largest tiles commercially available, Quantiam's tiles are currently available up to 6in (152mm) in width, 18in (457mm) in length, and 0.5in (12mm) in thickness. Larger sizes and thicknesses, and a variety of custom geometries are available.
Product Specifications
Material Properties and Performance Testing

HIGH Wear-resistant Tiles

Reference Steels

Quantiam
Q-Tile

Quantiam
Q-Tile XT

Competitor
Products

HCWCI
28Cr

AR 400

Wear
Properties

ASTM G65-A Volume Loss (mm3)

5.5

3.2

3

19.7

266.6

ASTM G65-A Mass Loss (g)

0.066

0.051

0.055 - 0.080

0.2

2.067

ASTM G99 Pin-on-Disk (x 106 µm3)

2.2

1.8

23.9

120

NRC SJE Volume Loss (mm3) 90°

1.8

0.6

14.4

75

NRC SJE Volume Loss (mm3) 45°

2

0.7

12.8

126

Mechanical
Properties

Rockwell Hardness (HRC)

50

55

65 - 75

56

40

Vickers Hardness - Matrix (HV)

649

575

-

812

370

Vickers Hardness - Carbides (HV)

1644

1429

1500

ASTM G171 Scratch Hardness (GPa)

8.9

9.4

9.1

3.4

ASTM B406 Transv. Rupture Strength (MPa)

715

945

600 - 650

984

-

Physical
Properties

Carbide Area Fraction (%)

37.3

52.7

Carbide Sizes (µm)

45 - 74

45 - 177

Porosity (%)

< 5

< 0.5

Density (g/cm3)

10.6

6.8

8